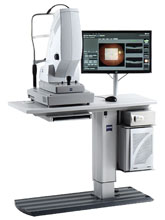 Visualized findings from various modalities
Correlated data from high-density OCT cubes
Superb color fundus results
Fundus autofluorescence and fluorescein angiography
A more comprehensive clinical evaluation
Very comfortable
A non-invasive procedure
Resume normal activities
Broader Clinical Insights – Greater Diagnostic Certainty
The Smart Imaging Combo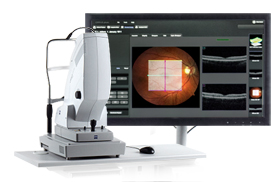 CIRRUS photo 600 combines a full mydriatic/non-mydriatic true color camera and CIRRUS OCT technology in a single integrated and compact system. Fundus autofluorescence is optional. CIRRUS photo 600 was designed with comprehensive eye care practices in mind. Broader clinical insights, greater diagnostic certainty and added practice value – the new CIRRUS™ photo from ZEISS delivers all that in a single, integrated system for both fundus imaging and OCT. All in one convenient sitting for our patints. Achieves a more comprehensive clinical evaluation. Comprehensive, high-quality diagnostics form the basis for informed decisions. With its superb multimodality visualizations, CIRRUS photo delivers exceptional diagnostic accuracy and certainty.

Interactive Review
The system's one-of-a-kind Multi-Mode Navigator enables interactive analysis of registered fundus images and OCT cube scans – horizontal and vertical direction.
Precise Registration
OCT scans are automatically registered with different types of fundus images including color fundus, angiography and fundus autofluorescence* images, bringing depth to our analysis.

Multimodal Assessments
CIRRUS photo allows us to conduct examinations with various modalities and to correlate the findings at one single workstation. Every fundus image can also be registered independently of the acquisition sequence, along with other flexible combinations.
Orientation At A Glance
Whether for a quick overview or point-by-point comparisons, thumbnails provide at-a-glance insights.