Essilor Visioffice® System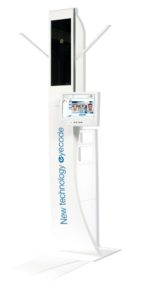 Shettle Family Eye Care & Eye Wear proudly offers patients the new Essilor Visioffice® System. The Visioffice® System is Essilor's all encompassing measuring system that allows our eye care team the ability to obtain every possible parameter required for modern lenses – with extreme accuracy.
Visioffice® also encompasses a unique measurement called Eyecode that allows you to go one step further in terms of lens personalization by measuring the Eye Rotation Centre (ERC). Eyecode is a stunning breakthrough. Using the new patented Visioffice® technology, Eyecode enables our eye care team to determine the individual position of each eye's rotation center with one quick and easy measurement. This eye data can then be combined with frame and head/eye behavior data to create truly personalized single vision and progressive lenses. Eyecode is unique to Visioffice® and the combination of technologies outperforms all other measuring systems on the market.
Thanks to the Frame selection interface we can take photographs of our patients to help them select their best frame style. If you've ever struggled to choose a frame, having difficulty seeing just what they look like without your glasses on, you will absolutely love this feature.

Through the use of various interactive presentations we can help you to choose the best lens/frame combination for you:
Personalized simulations – with your unique data can help you to see the difference in lens designs so you can make a clear choice
Interactive animations – demonstrates the benefits of different lens coatings
Lifestyle questionnaire – a series of simple questions to help you find out which lens would best suit you
See Visioffice In Action-Watch a short video of this amazing instrument in action.